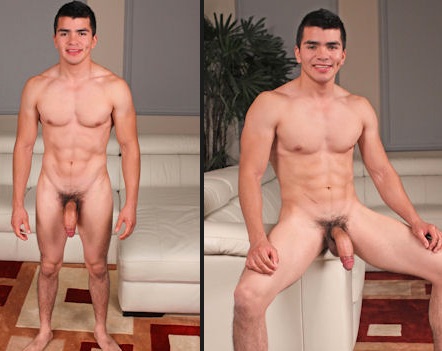 A former gay-for-pay adult film star who worked for sites like Sean Cody, Cocksure, and Mormon Boyz has been found guilty of murdering his rich older lover in the hopes of inheriting his sugar daddies fortune. Could he have not just joined up with the Gay Millionaire's Club? David Enrique Meza, now 26, appeared in several Sean Cody clips as "Francisco" and also went by the aliases Mario Romo, Rick Romo, and Gonzalez.
The porn star was convicted on Monday of killing 52-year-old Jake Clyde Meredino in Mexico. According to reports, Meza took his sugar daddy to the side of a road in the state of Baja California and stabbed him 24 times, slashing his neck and dumping him in a ravine. Sean Cody's Francisco would've inherited the Texan's $3 million estate, and he was the only named beneficiary of a $275,000 oceanfront condo purchased the day before the murder.
Watch Calvin & Francisco at SeanCody.com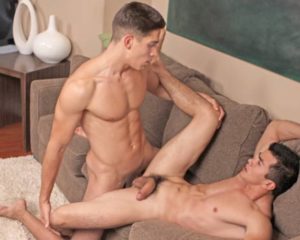 Excerpt from Francisco Taking Cock on Sean Cody
Francisco may be smaller in stature than Calvin, but he's big where it counts. His cock is monster thick and I wasn't even sure if Calvin would be able to fit the thing in his mouth. Surprisingly he did, but not without having to break away for some air a time or two. And, while Francisco may be the more shy, reserved one in person, he's probably the most verbal bottom I've ever heard. The harder, deeper and faster Calvin went, the louder Francisco got. Calvin even joked about it afterwards!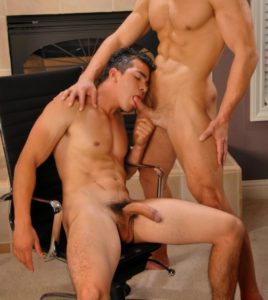 As Francisco at Sean Cody, his solo was released September 2010. He has a big fat dick but it was never used to fuck a guy with that studio. Instead, he was fucked twice by Jess and Calvin. Using the name Mario, he got the chance to use that big fat dick of his to pound Van at Bait Bus in a scene called Loving the Mexican Enchilada. we hear he had trouble getting it hard as he was straight so he tends to bottom more.
We have to wonder what cock he will be taking in prison for murdering his sugar daddy!