Sometimes a hardcore gay porn scene is delivered by a studio and it just puts everyone else to shame. That's what I though might happen when I first heard about the Scandal In The Vatican movie from Bel Ami Online. I knew about this shoot before we got a glimpse at the hardcore action with these awesome uncut boys, and I was certain that this project would be a truly memorable one.
I definitely wasn't proven wrong when I finally got a peek at the goods. The Scandal At The Vatican project from Bel Ami Online had the gay porn bloggers in a tizzy when the very first hints of it were out there. I believe the guys at Bel Ami had barely put the finishing touches to the first scene before the word got out that this was something truly special.
For a start, this is not just a gay porn movie. The Vatican doesn't know it (or at least we assume no one in the holiest of holy places knows it) but the Pope himself basically got punk'd!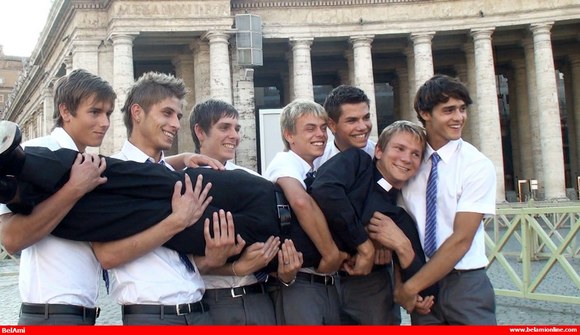 Not only has Bel Ami created one of the riskiest porn shoots when it comes to controversy (I'll get to that) but they used the genuine sights of the Vatican itself as a backdrop to many of their non-action scenes. The highlight of the entire movie is said to be a moment when two of the "Kinky Angels" are actually blessed by his holiness, without him even knowing that they're gay porn stars!
I know what you're thinking, this is already pretty funny! I'm certain there won't be violent protests and buildings being burned in response to such blasphemy, but we have to admit that filming inside the Vatican for a gay porn movie, and filming the Pope himself as an unknowing participant, it's pretty risky!
The action is perhaps going to pour even more oil on the fire as the gorgeous and immensely hung Trevor Yates plays the part of a horny priest. As you can see from these behind the scenes images, the boys pulled out all the stops to film some non-action scenes with Trevor dressed in the role as the Kinky Angels follow him.
We've had the first action released by the Bel Ami Online site for this amazing movie, and it's an awesome one for all the fans of uncut cock, massive dicks and delicious oral action. Trevor Yates is treated to a cock sucking feast as the Kinky Angels all vie for his massive meat, but there's plenty of cock for all the boys to lick and suck on as they all service the religious hottie and then turn on each other too.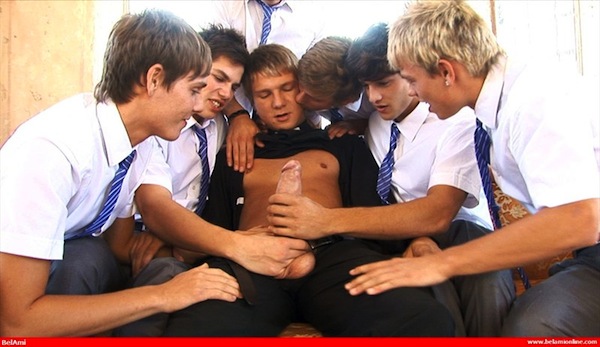 Kevin Warhol, Jack Harrer, Andre Boleyn, Adam Archuleta, Jaco Van Sant and newcomer Sean Davis are all in attendance, receiving a very special kind of holy communion as they lick and suck on the hunky young mans massive uncut shaft, feeding him theirs and swapping all those leaking tools with each other.
There's so much sucking going on you might easily end up losing track of who is blowing who, but rest assured you'll always know where the priests massive cock is because it really is truly enormous!