In case you weren't aware of it, the awesome Scandal In The Vatican story from the guys at Bel Ami Online has really been causing quite a stir since the first reports of it surfaced a few months ago. When the first scene from this awesome story appeared we got some of the cock sucking orgy on the site for you guys to check out. But since then they've released the other two parts to this three-part story and it just keeps getting better and better!
You might recall that in the last session the Kinky Angels boys all seduced the sexy religious man Trevor Yates and got him into a cock sucking orgy, with all the lads licking and slurping on every shaft that came their way – especially Trevor's hung uncut cock. They paid a lot of attention to the immense young guy, worshipping his mammoth dick and making him so horny in the process he was willing to take splashing loads of hot cum all over him by the end of it, leaving him covered in their ball juice!
That was a great session, but fans of massive uncut cocks, loads of cum, handsome boys and plenty of anal action will probably get off on the second scene from the Scandal In The Vatican trilogy even more!
The Kinky Angels of the Bel Ami Online site have departed to enjoy their own immense orgy (which I will bring to you in part three soon), but they've left the hungry bottom boy Jack Harrer in the company of the hung clergyman after all that delicious dick swallowing action.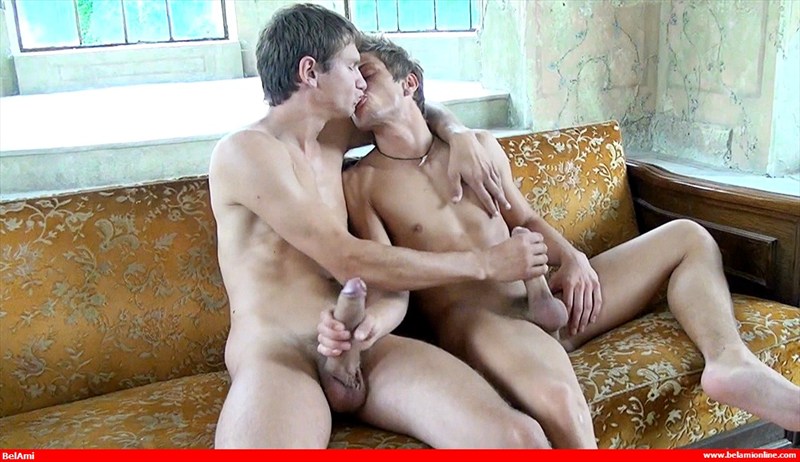 The guys still have plenty of hot cum to shoot with each other, and Jack Harrer wants to experience that hung uncut cock in his tight little ass!
Top guy Trevor Yates is just as eager to experience the tight hole of the young guy too though, and his oversized shaft is almost drooling precum to get inside that chute.
The boys start off with a whole lot of wanking and sucking as they work those intact shafts up and get their friend rock solid and ready for some anal pounding, and if you've ever seen Jack Harrer taking an ass slamming you know that if anyone can receive a massive shaft like the one Trevor Yates has to deliver it's definitely him! That's one of the reasons why he's one of the most popular boys on the Bel Ami Online site!
He's so horny for it you can see the pleasure on his face as that cock eases into his hole and stretches him out. He's loving every thrust of that pole deep inside as Trevor gets off on the sensation of his raw dick finally buried deep in a guys warm tunnel.
Trevor fucks that ass deep and hard all over the couch, getting his inches in deep as Jack lays back and strokes his own solid shaft, his foreskin sliding back and forth over the swollen helmet of his meat, until the first splashing of hot cum erupts from his pole!
I say the first splashing, because he's so horny for that massive cock in his ass he CUMS THREE TIMES in this video! And the final moments go to Trevor Yates as he pulls his immense cock free and wanks his uncut pole until his own messy splashing cum load is erupting out all over Jack's aching and gaping fuckhole!
This really is an immense session of ass fucking as these two really handsome guys share their hung uncut cocks. But the sight of that massive dick slamming into young Jack over and over and making him splash out his semen three times is definitely not to be missed.
If you didn't see the first video of the Kinky Angels all teaching Trevor Yates what a real good cock sucking orgy is like then you have to see that one first. Then come to this one to see him experiencing a tight gay ass wrapped around his huge tool. And stay tuned to the blog too, because we'll have some of the pics from the Kinky Angels orgy – the third instalment from the Scandal In The Vatican trilogy – real soon!
Watch all three instalments of the Scandal In The Vatican story only on the Bel Ami Online site!