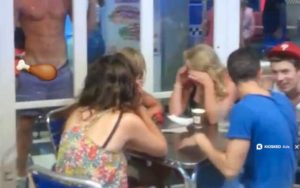 Not exactly the fun you would expect when dining at KFC aka Kentucky Fried Chicken. Whether you prefer white or dark meat this guy says you will get white meat regardless. While these people were dining with greasy chicken they got a free show when this hot guy pressed his white meat up against the window by their table. Do you feel this was finger lickin' good?
See the video below the jump!


White boy reveals his meat at KFC. Do you think it's as hot as this footballer or this 18-yr old?