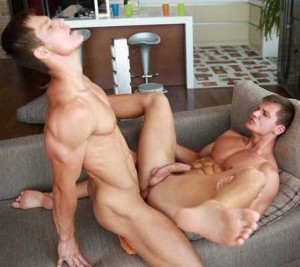 Controversial, a gimmick, sensible, ethical, illegal, bad taste, horny, sexy, hot…? What's your opinion of seeing real life twins fuck on video? That's a question that many people are considering more and more these days and it doesn't stop at twins. Recently you may have heard of the Visconti Triplets, three hunks who appear together in gay porn, or you may already have seen the Higgins Czech twins going at it, but have you seen the recent BelAmi twins, Milo and Elijah? And yes, they do fuck.
However, I'm not here to pass a judgment or even to ask you if you consider this illegal and incestuous – which it clearly is, incestuous I mean. I'm here simple to tell you that recently BelAmi released a video featuring Milo and Elijah Peters who are indeed real life twins. And I mean to write 'twins' and not 'twinks' here.
These two lads have been described as 'perfectly sculptured' and 'doll-like twinks' and they sure are; great bodies, chiseled looks and near identical faces. They were hired to partake in a four-way scene with Luke Hamill and Sebastian Bonnet, but, so I am told, they got so carried away in the shoot that they couldn't stop themselves from handling each other. This happened to such an extent that they ended up going all the way. The censors got up in arms and the scene had to be edited so that it could be distributed in the USA. As a point of interest, I discovered that it was censored by the BBFC, which is a UK set-up, but they apparently censored it for the US. Strange but true.
Knowing that this kind of thing is taboo, the crew at the BelAmi shoot asked the twins to try and keep away from each other. To which the twins replied (and I quote from Unzipped here), 'If we do it at home anyway, what's wrong with doing it on film?' Er… hello! Maybe I am being a bit prudish here, or maybe because I have two brothers, neither of whom would, or do, interest me in any sexual way, they didn't even when I was a teenager and full of raging, closeted gay hormones, but these two guys admitted to doing 'it' with each other at home? And 'it' means going all the way apparently. What kind of place do they live in I wonder? It smacks of clichéd gags about incest from the swamplands and history… but I digress.
So, the scene got made and an edited version was made available. But if you really want to see the unedited version then you can do so at BelAmi Online. The movie is called Sex Buddies 1.
This was, as I understand it, the boys' first video and they both took dick anal-wise in it. This was back in June 2008. Checking out some background I discovered that there is now at least one new scene on BelAmi featuring Milo and Elijah, I didn't find a title but I saw some images and they're certainly handling each others' manhood, manually, and cumming across each other's hardons. According to Johan from BelAmi, the only way to tell these two twins apart is by the fact that their dicks curve in opposite directions. Well, we all needed to know that – but I still can't tell one from the other, they even shoot the same.
So, this is the second twins movie that I've heard about in the past few months. Is this the start of a trend, and if it is should we be worried? Will punters be put off BelAmi by this move into the world of taboo? Only time will tell and only you can decide.
"The hottest thing about this is that they are breeding each other to some. The Peter twins Milo and Elijah are fucking bareback, sucking each other, and rimming each others ass." -Carter